Venezia offers Classic Elegance in a Nursery Set - We deliver! Call us for availability - 610-351-0570
Style that isn't outgrown in this convertible nursery collection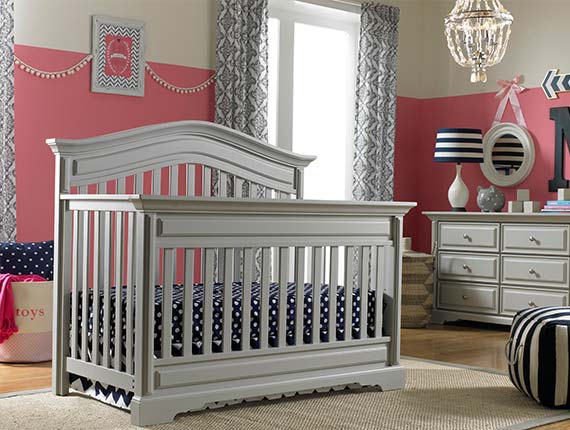 Inspired by the elegance of Venice, our Venezia Convertible Crib echoes the traditional curved shape of the city's bridges. This versatile crib transitions easily with each stage of growth; from crib to toddler and day bed, and finally, a full-size bed. Optional guardrail for toddler bed and Bed Rail Conversion Kit available.
This style comes in both Snow White or a Misty Grey Finish. 
Features of this nursery set:
4-in-1 conversion; crib converts to toddler, daybed and full-size headboard
Fixed side rails
3-position adjustable mattress platform
1-Year Warranty
Coordinating guardrail 
for toddler bed available separately
Coordinating bed rails for conversion to full-size bed available as well
Pieces available:
Venezia Full Panel Convertible Crib – 57″ x 31.5″ x 47″
Venezia Double Dresser – 56″ x2 0″ x 34″
Venezia 5-Drawer Dresser – 42″ x 20″ x 49″
Venezia Hutch – 42″ x 13″ x 56″
Venezia Dressing Kit – 52″ x 18″ x 4″
Venezia Guardrail – 54″ x 1″ x 14″
 
Venezia Bedrails – 75″ x 55″ x 2″
Want to learn more?
Come in to the store and ask or contact us for more information.